Lubricant Tanks
Digilube's Lubrication Equipment offers two sizes of Lubricant Tanks; 12 and 65 gallon. Our lubricant tanks allow for a range of choices depending on your conveyor high temperature lubricant needs. These lubricant tanks are versatile and can be used for many different type of automatic lubrication. For example: enclosed track lubrication, monorail i-beam rail lubrication, power & free lubrication, in-floor lubrication and oven conveyor lubrication.
These lubricant tanks are designed to provide high temperature lubricant to both single and multiple conveyors. They are used in a variety of industries:
Automotive
Powder Coating
Food Processing
Aerospace
Gypsum
12 Gallon Lubricant Tank: DL-812
Our 12 Gallon Tank is a popular choice for customers that have moderate chain lube usage. Because our microprocessors can be mounted to our tanks, the correct amount of chain lubrication will be placed onto your line, striking the delicate balance between over and under lubrication.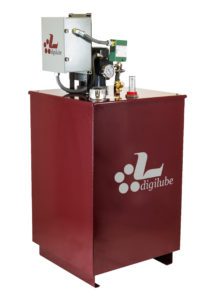 Specifications
| | |
| --- | --- |
| DIMENSIONS | 22 1/2″ H x 12 1/2″ W x 15″L WT75# |
| PLACEMENT | Positioned waist high on column for easy filling |
| POWER SUPPLY | The DL-9000 power supply comes in either 115VAC or 24 VDC output |
COMES WITH OR WITHOUT A DL-9000 POWER SUPPLY
65 Gallon Lubricant Tank: DL-865
The 65 gallon lubricant tank is used when greater amounts of conveyor lubricant are used either due to greater lengths of the chain or multiple conveyors are tied to the lubricant tank. This is especially true when the conveyor chains are subjected to different processes like powder coating, organic and inorganic coatings, etc. Most of the time, these conveyors go through washers and high temperature ovens. As a result, the conveyor lubricant consumption increases.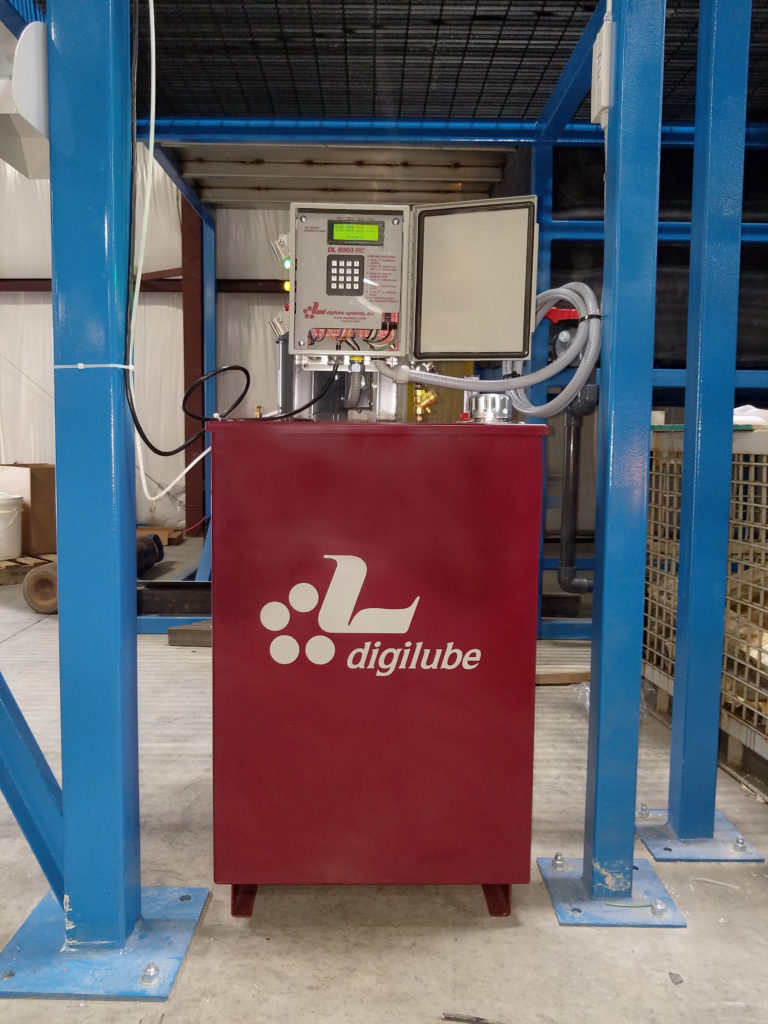 Specifications
| | |
| --- | --- |
| DIMENSIONS | 49″H x 22 1/2″W x22 1/2″L WT210# |
| PLACEMENT | The tank is designed to provide lubricant from a single source to multiple lubricators |
| POWER SUPPLY | The DL-9000 power supply comes in either 115VAC or 24 VDC output |
COMES WITH OR WITHOUT A DL-9000 POWER SUPPLY
Get the Complete Package
Pairing our lubricant tanks with our lubricators, our DL-5003 Head Controller and our conveyor lubricant provides a vital component to the overall productivity of your conveyor through:
Longer chain wear
Elimination of chain surge due to improper lubrication
Elimination of product contamination from lubricant buildup and over lubrication
Don't forget to service your Equipment
It's important that your automatic conveyor lubrication equipment and high temperature conveyor lubricants are serviced. Did you know we offer service contracts? During our On-Site visit, our trained field service technicians will ensure your conveyor is working in optimum condition. Need a Weekly, Monthly or Quarterly visit? Discussing your system with a Digilube representative will help us determine what size tank and frequency of service is right for your application. Determining factors include:
Length of chain
Amount of conveyors
Type of conveyors
Load
Temperature
Other processes
Learn more by reading the brochure